Water Slide Rentals, Water slide Rental, Backyard Party Rentals
  Water Slides

We have Waterslide Rentals for every party!

Free Delivery within 20 miles of our Shop. Just $2.00/mile after

Book now, Pay at Delivery.(Cash, Cash app, Zelle, Or CC)

Call 863-307-9302 with any questions!
Fly High Inflatables LLC provides the best Water slide rentals to all of Polk County Fl.
Inflatable Water Slides have many names: water slides, bouncy slides, inflatable slides, blow up slides and many more. Whatever you want to call them, we call them FUN and the perfect match to any hot day.

Fort Meade is a great city, and we strive to make the events we help with just as great. We take great care to deliver, set up, and take down our equipment with respect to your property and time. Whether you are looking to entertain a group of friends at a backyard party, or an event for hundreds; we deliver the maximum amount of fun every time. Fly High Inflatables is the best choice for your water slide fun, and there's nothing better on a summer day than a little excitement on one of our slides. Rest assured Fort Meade, Your event is in good hands.

Plus, reserving your water slide couldn't be easier. You can reserve over the phone with our awesome staff, or use our state of the art online reservation system to get your party reservation started. Its never too early to make a reservation!
Fly High Inflatables: Home of best Water Slides in Davenport, FL!
Fun in the Sun! Waterslide rentals Davenport
It sure can get hot in Davenport, so what better way to cool off than a great time on one of our exciting waterslides? Entertain and beat the heat at the same time! These slides are great for everything from family picnics and neighborhood parties, to corporate events and fundraisers.
Family time is more important than ever because of covid-19, and our super clean, and super fun slides are just the solution you need. Whether its the super fun Mermaid 16 ft Water slide, the beautiful Purple Knight Combo Bounce House with Slide, Splash, or the Blue Wave 16ft Waterslide, we have the perfect slide for you.
The #1 solution for Water Slide rentals in Davenport, FL
All of our waterslides are delivered and set up, on-time by our friendly and professional staff, its as simple as that! And all for an affordable price.
We deliver to:
Davenport Florida
,
Haines City Florida,
Lake Alfred Florida,
Lake Wales Florida,
Poinciana Florida,
Winter Haven Florida
and more!
We often deliver further out as well, so contact us for further info.Because of our membership of the largest group of party rental industry experts in the world, we can provide an unmatched level of customer care. We offer a wide variety of quality designs for your party and we update our inventory all the time. We can help you pick the best slide for your party, and we are very sure that you will love it!
Book Your Water Slide Rental Online 24 hours a day
We have tried to make the process as easy as possible. We partnered with the best rental software platform on the market to bring you an easy and efficient way to book and keep track of your rental, with our contact-less delivery and ordering process. Just simply select the date of your event and our system will show you what party equipment is available for that date and time. Need your rental a little longer or have a big event coming up you want to make sure every detail is in place? Contact us today and we can work together on planning the most awesome water event ever!
Cheap Water Slide Rentals
We do not offer cheap water slides, we do however have the best line of
Affordable Water Slide Rentals in Davenport Florida
and the surrounding area. Our equipment is made of high-quality, lead free, commercial materials that are built to take the abuse of… kids being kids for years to come. We maintain high-standards and also clean and inspect our equipment regularly to ensure our rentals are ready for your party. Call us for the best water slide rentals Davenport FL.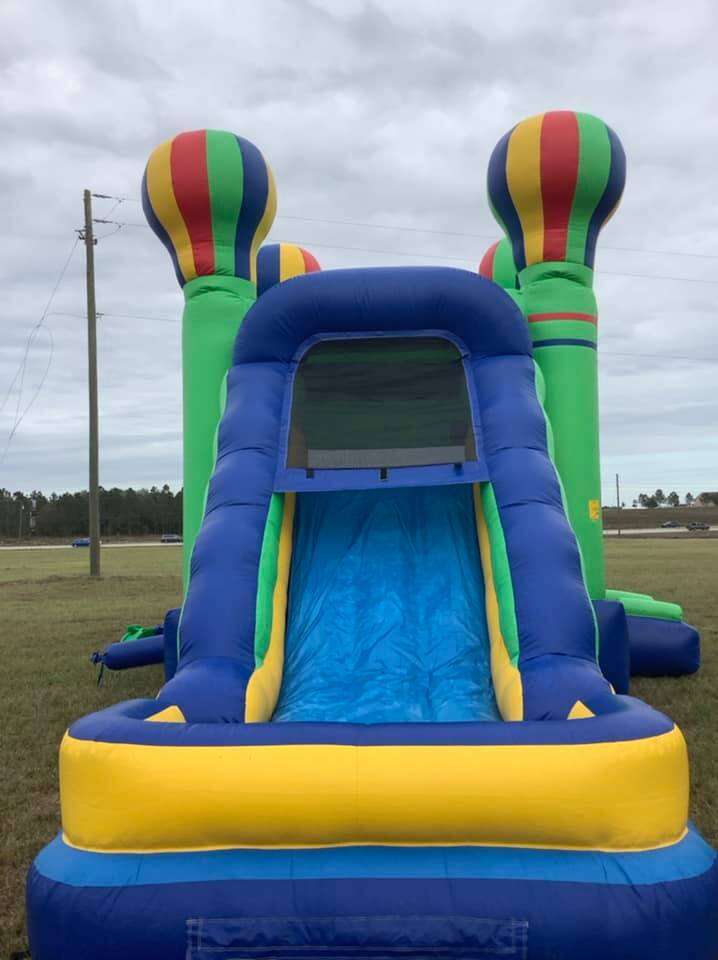 Inflatable Water Slide Rentals Davenport FL
At Fly High Inflatables, we are very confident that our inflatable water slide rentals Davenport are the best in the business. Inflatables and especially water slide inflatables are our specialty. We are a Family owned and locally operated Davenport, Fl Party rental business. We are proud to have such great customer service and experience in making your next party the best it can be. Our water slides are some of the best in the business, and we have quite the inventory, so you can plan an amazing event. Whether you are planning a backyard birthday bash, or a company party to remember, We have the perfect water slide for you. Our water Slides Are always clean and safe, and our expert team is dedicated to making your event a huge success. Let us help you create your next: backyard party, school festival or field day, birthday party, church event, community event, carnival, graduation party for high school or even college graduation party, corporate event/retreat or team building exercises. No matter the type of event, we will make it a blast!
Bounce Houses
Lakeland Water Slide rental
Fort Meade FL
FAQs about Water Slide Rentals in Fort Meade Florida
Q.
Do prices Include setup and delivery?
A.
Yes they do, although there may be fees for farther out areas. Prices do not include sales tax.
Q.
Does the standard 4 hour rental time include your set up time?
A.
No it does not. We set up early so your whole rental time can be spent playing.
Q.
Do you require a deposit?
A.
Yes all orders require a $50 Credit Card deposit. Cancellations 8 days or more beforehand are fully refundable, While cancellations between 2-7 days ahead will receive a rain check that is good for 1 year.